Beijing Normal University, Zhuhai (thereafter abbreviated as 'BNUZ') is a full-time ordinary university approved by the Ministry of Education of the PRC (thereafter abbreviated as 'MOE') and co-sponsored by Beijing Normal University and Zhuhai Municipal People's Government for undergraduate education.
During its development, BNUZ is committed to build an open, distinctive and application oriented high-level university. It persists connotation and characteristic development and believes in the philosophy of 'people-oriented and excellence pursuit'. It is committed to cultivate high-quality applied talents with excellent humanities literacy, solid professional foundation and strong practical ability.
According to the regulations of the MOE, Beijing Normal University is responsible for the teaching organization and management of BNUZ. Beijing Normal University attaches great importance to the quality and level of its education. It dispatches experienced management cadres to take charge of the administration and teaching management of BNUZ.
Relying on the high-quality discipline resources of Beijing Normal University and focusing on contemporary economic development and social needs, BNUZ is committed to cultivating applied talents with lenient humanities, scientific literacy and subject expertise. Since its establishment, students have come from 27 provinces (autonomous regions and province-level municipalities) as well as Hong Kong, Macao and Taiwan. In 2018, 60% of students who were enrolled outside Guangdong Province reached the first batch of undergraduate admission score line. In 2011, BNUZ and 62 other universities including Tsinghua University, Peking University and Beijing Normal University, were put on the list of universities that enrolled Hong Kong students without examinations in 2012 by the MOE. At present, there are more than 23,000 students in BNUZ.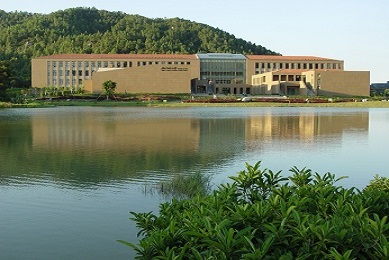 BNUZ has 14 schools (faculties) including School of Chinese, School of Education, School of Management, School of Information Technology, School of Real Estate, School of Logistics, School of Government and Law, School of Design, School of Arts and Communication, School of Foreign Languages, School of Engineering Technology, School of Applied Mathematics, School of Sports Leisure and International Business Faculty (thereafter abbreviated as 'IBF'), covering 61 undergraduate majors in 8 disciplines. It has formed a comprehensive discipline layout with the application-oriented disciplines such as economics, management and engineering as the main body, education discipline as the characteristics, and the coordinated development of traditional disciplines such as literature, art, law and science.
Students of BNUZ who have received all the required credits stipulated in the curriculum plan of their major will be awarded the graduation certificate of BNUZ. Those who meet the requirements of Regulations on the Granting of Bachelor's Degrees of BNUZ may apply for the bachelor's degree certificate of BNUZ.
Please find more introduction from http://news.bnuz.edu.cn/info/1021/15199.htm